The 2020 Time Travellers Car Show and  the 2020 version of the Time Travellers Annual "Doin' it on the Grass" was cancelled due to the Covid 19 safety restrictions.
Moving on to 2021,  on a positive note – the 2021 Time Travellers Car Show was held successfully on August 7, 2021.  see attached poster and information below.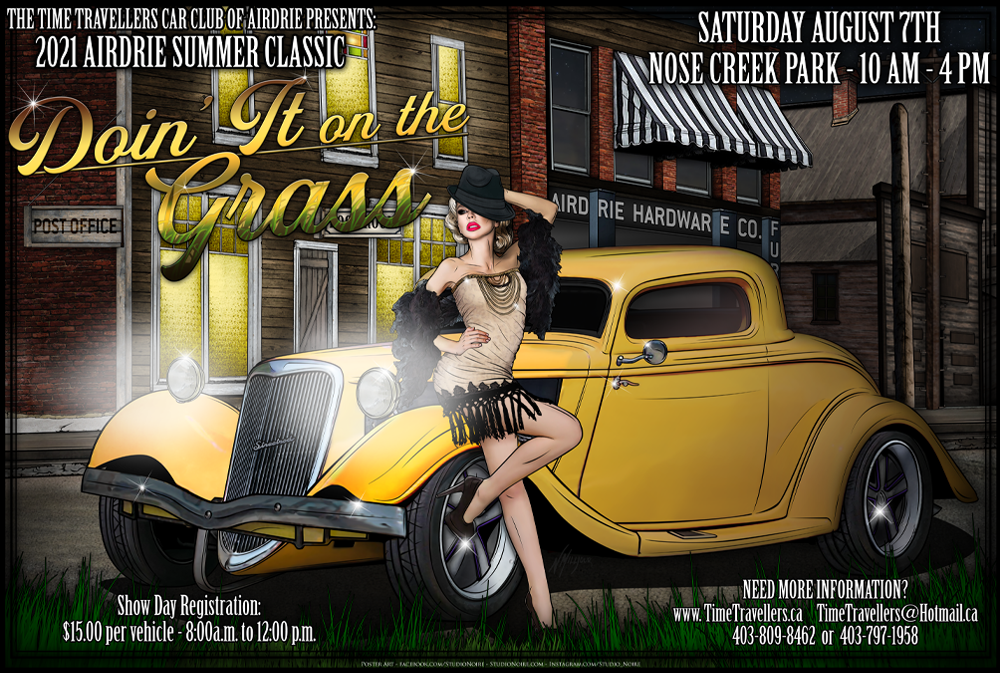 Please check back often as details will be posted as they become available.
The show took place on Saturday, August 7, 2021 in NOSE CREEK PARK. The front gate opened to pre-registered participants at 7:00 a.m. and non pre-registered participants at 8:00 a.m. Entry was $15 and registration ran from 8:00-noon. For spectators the show ran from 10:00 a.m. to 4:00 p.m. There was no admission for spectators however a food bank donation is requested. Every food or cash donation to the Food Bank gets a ballot to vote on the entry to win the Airdrie Food Bank People's Choice Award!
How to Find Us – Nose Creek Park Airdrie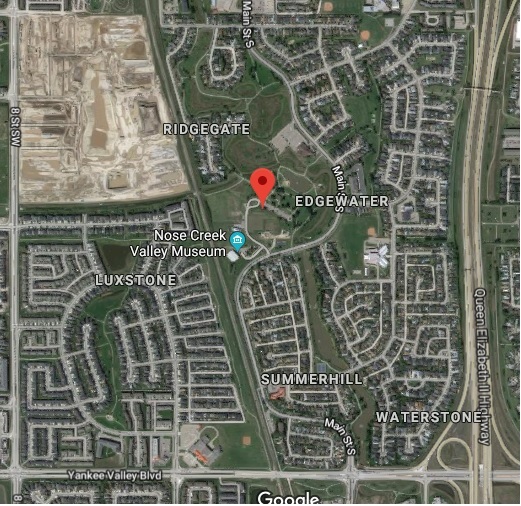 The Car Club is most famous for the Annual Airdrie Car Show – The Airdrie Summer Classic. We are now in our 20th year and this is the club's biggest fund raiser. Funds raised through the show are donated to local charities which are selected and voted on by the Club members. Local charities of choice, include the Airdrie Food Bank, The Boys and Girls Club, Canadian Tire Jump Start, Tails to Tell Animal Shelter, Alberta Institute for Wildlife Conservation, Airdrie Lioness, MADD, Airdrie Hospice Society, Airdrie and District Victims Assistance, 1st Airdrie Scouts, Veterans Food Bank and the list keeps growing. As a Club member you have a vote as to direction of these funds, and by having that vote you have the opportunity to make an impact in the community you may live and/or work.
Some past posters of years gone by   Poster History
a link with many pictures from the car show – Airdrie. 172 photos. Aug 7, 2021 (niceoldcars.ca) – thank you to "nice old cars"
Many thanks to all of our
amazing sponsors
Proceeds from this year's show will be going to:
Stay tuned for an updated list!
2021 Awards

Stay tuned for an updated list!
We would like to thank the following major sponsors for helping us bring this great show to the community and helping out these charities in need: Airdrie Autobody, Airdrie Truck Accessories, All Fitts, Davis Chevrolet, Integra Air, Sierra Springs Dental, Airdrie Honda, Bumper to Bumper, Cam Clark Ford, Visions, Bambino's, Boston Pizza, Magnet signs Airdrie, Here's the Scoop, Trophies Plus, Calgary Silkscreen, Koverall Industries, Paron Collision & Paint, Hampton Inn & Suites. And a really big thank you to Jason Brown for this years artwork design!!
Sponsor, Vendor and Media Inquiries