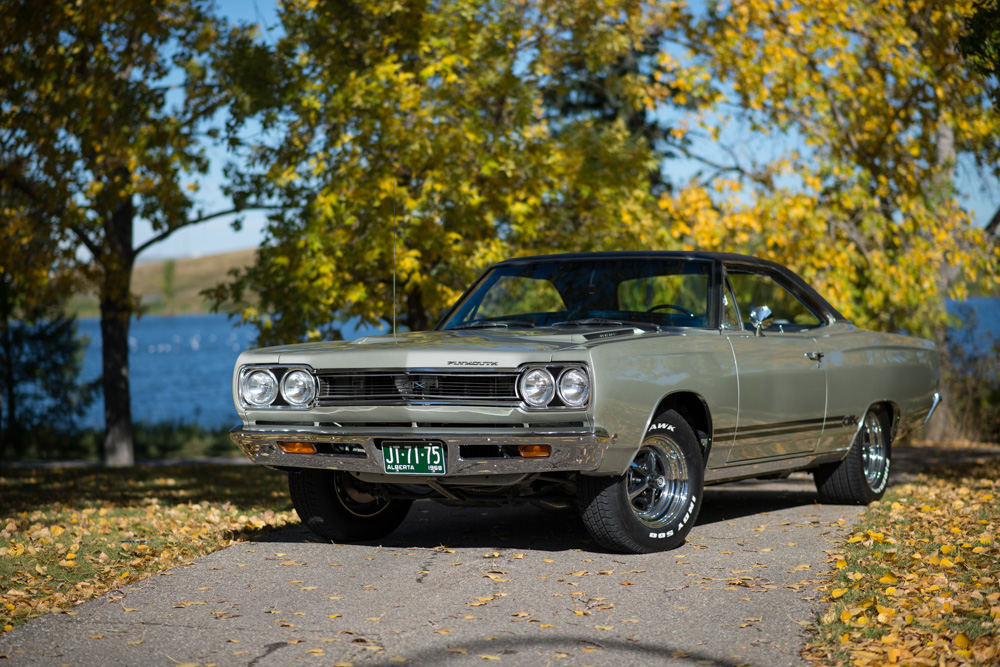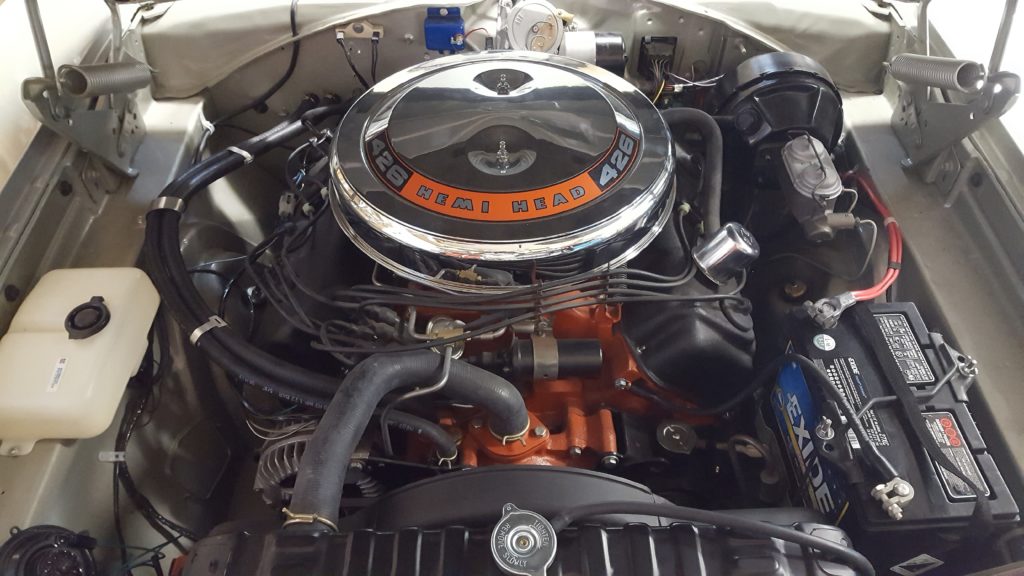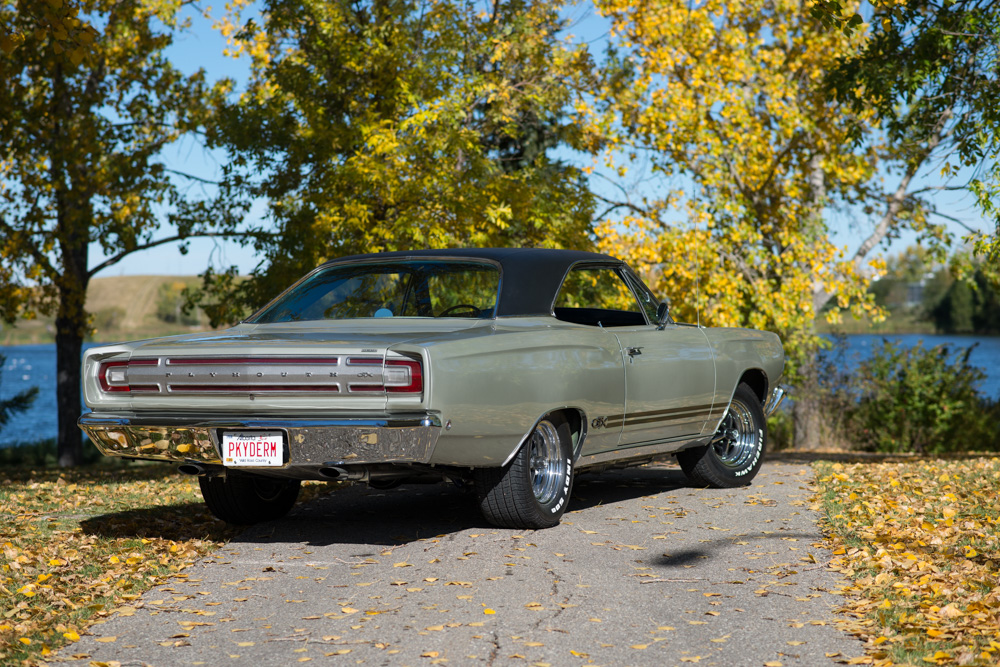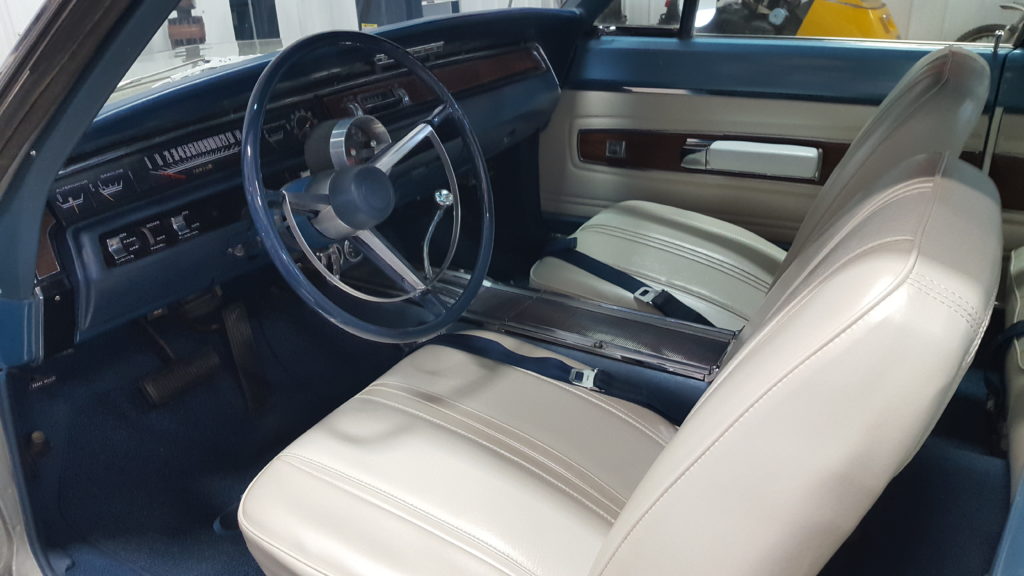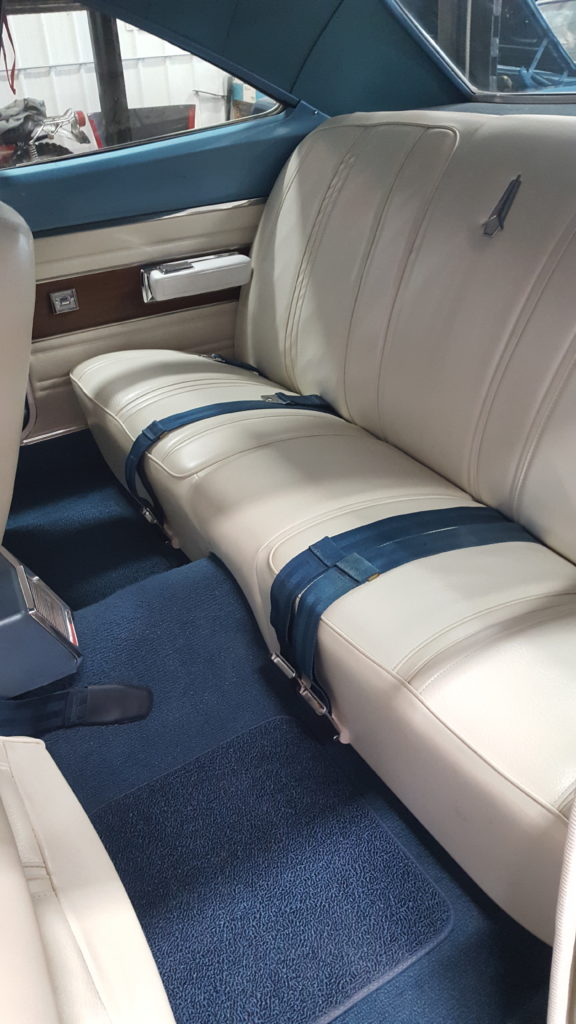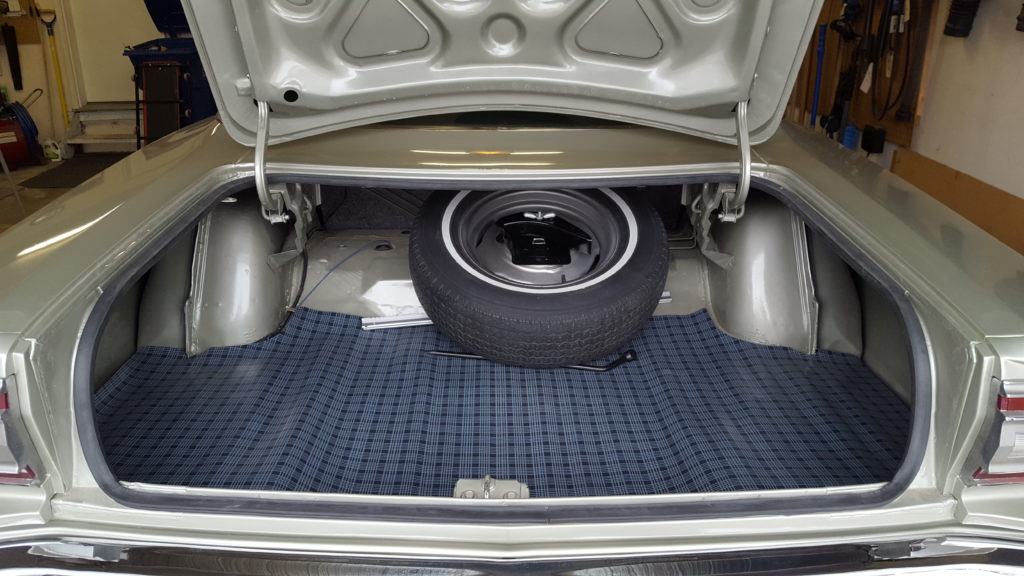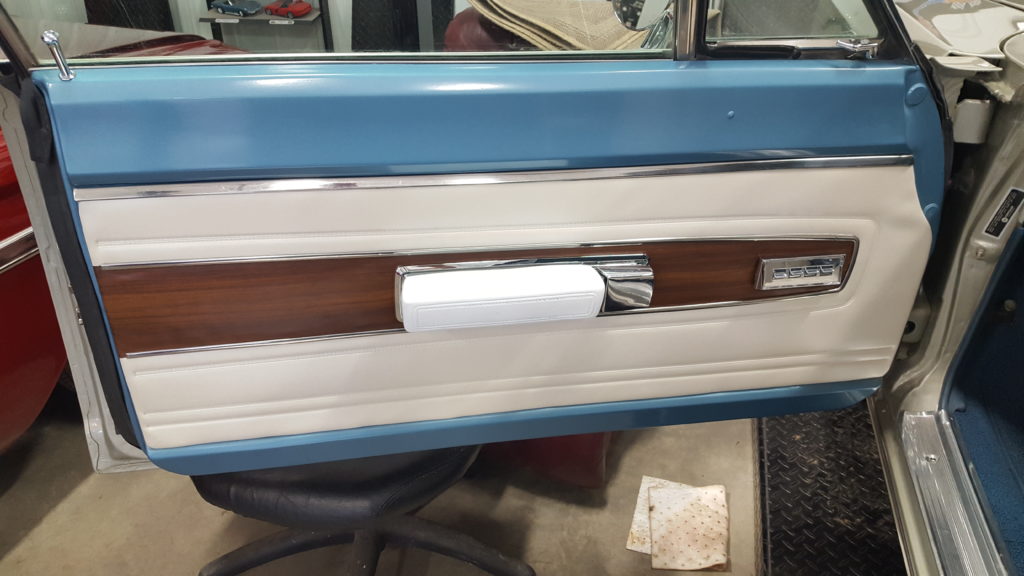 Name PKYDERM
Year: 1968
Model: Plymouth GTX
Type: Full restoration
Color: Exterior: AA1 Buffed Silver Metallic w/ black vinyl roof
Interior: S6C two tone Blue and White
Owner: Keith & Pat M
Details:
Body: 2 door coupe
Paint and body work: Bassano Autobody
Modifications:
Hooker Super Comp headers
Mopar electrical transistorized ignition system
Interior: Stock
Engine: date correct 426 Hemi bored .030 overupgraded with Racer Brown SSH44 cam (.510 lift 292 degrees duration)
Transmission: Chrysler 727 TorqueFlite automatic with TCI 2800-3000 stall converter
Rear end: stock Chrysler 8 ¾ with 3:55:1 Sure-Grip axle
Rims: 1968 Plymouth Magnum 500 (15×7 front 15x 8 rear)
Tires: Firestone Firehawk Indy 500 (215/70R15 front 295/50R15 Rear)
Other:
410 Hemi GTXs coupes built in 1968
11 Hemi GTX coupes sold in Canada in 1968 this is the only one sold in Alberta
History:
This is actually a very long story but I'll do my best to keep it readable. It starts with purchasing the 1968 vintage engine (a warranty replacement block) in 1988 when I was living in Manitoba and owned a 68 GTX 440 four speed car (acquiring the Hemi motor is a story in itself). The intention was to build the Hemi and install it in the 440 car then do a reverse swap sometime down the road when I wanted to sell the car. That was until I discovered that Hemi cars use a unique K-member. Well, I wasn't about to change that twice so I crated the block, boxed up all the parts and brought them with me when I was transferred to Alberta in 1989.
Once we settled in, I built the engine and crated the whole thing up. There it sat while I completed the first restoration on the Shelby, but always on the lookout for a 68 Hemi body car. In the Summer of 1992, I was shopping for a good used truck when I came across an ad in the Truck Trader that read "For Sale – 1968 GTR original demi car". OK I felt that was worth a phone call at least. Sure enough; the wife of the owner explained that it was not a truck at all but a 1968 GTX original Hemi car but with no engine or trans. I replied that although I was disappointed that it wasn't a truck, I might still be interested. So off to the hamlet of Winfield Alberta I went. Upon arriving in the yard and seeing the car in the garage I quickly realized it was the same car I had tried to buy 2 years previous from a fellow in Bentley Ab. At the time I was unable to because it had been tentatively sold to an individual from Vancouver the week before. How it ended up in Winfield is again, a story in itself. Long story short – it was meant to be.
In 1995, with the Shelby finally back on the road, and the 440-car sold, I turned the GTX over to my good friend at Bassano Autobody to do the body work and paint when they had slow times. In the mean time I set about collecting a very very long list of parts required to do a complete restoration once the body work was done. In 2008 with body work complete and a base coat of paint applied, the GTX came home. Over the next 11 years the car provided an immense amount of pleasure as a project with my eldest son Trevor. To the point in fact that I was hesitant to work on it by myself as it just didn't seem right. Naturally there were many moments of the wrench virtually flying across the shop and a few words spoken that can't be written here. That just makes it that much more enjoyable when things go right, and eventually they do.
In my view, the most exciting part of any restoration project is the initial startup of the engine. Although the project was far from finished, in early December 2017 we did have the power train and exhaust system fully installed. It was "fire up" time. Trevor shot a YouTube video and if you're interested here is the link. https://youtu.be/9EFetuBoThU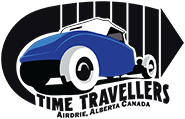 It would be another year to get the car to completion only to discover that one of the cylinder heads was cracked. Now you'd think that wouldn't be to overwhelming; after all you just have to remove the intake manifold, one exhaust header and then remove the offending head. Right? WRONG! Due to the design of the heads it's impossible to remove a 426 Hemi cylinder head in a 1968 B-body Mopar while the motor is installed in the car. Out came the motor and trans; not a simple job but much easier than the reinstallation. I wasn't all that happy with the performance of the transmission either so off to Kerry Hall for a complete rebuild that resulted in what is now a bullet proof hemified 727. With Cylinder head repaired, engine buttoned up, and trans rebuild complete, it was time to shoehorn it back in place and finally get some seat time. At last, PKYDERM is loose.
Tags: Plymouth GTX, Hemi, Mopar,
All content is copyrighted and belongs to the Owner and the Time Travellers Car Club