Year: 1969
Make: Chevrolet
Model: Camaro 396 SS Convertible
Color: Green
Owner: Wayne & Marlyne J
I ordered this car in June of 1968, and took delivery on Dec. 2, 1968.
When I ordered it, I wasn't sure what the '69 models were going to look like, except for some sketches in car magazines.
I met Marlyne in 1974, and she learned to drive in this car, and passed her driver's test in it.
It was our everyday driving car until about 1975, when it became more of a nice weather car.
I had the car repainted in early 1991, then got caught in a hailstorm in September of 1991, and had to have the car repainted again.
It is still the original color of Rallye Green. The powertrain and interior are still original
The car is now used mainly for evening and weekend drives in nice weather, and the occasional car show.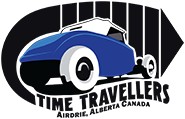 Tags: 1969 Camaro, 396 SS, Convertible
All content is copyrighted and belongs to the Owner and the Time Travellers Car Club