Year: 2005
Make: Ford
Model: Thunderbird
Color: Medium Steel Blue
Owner: Debbie & Tim Knapp
Engine configuration: V8
Horsepower: 280
Displacement: 3.9 litre
Original cost: $42,460 USD
50th Anniversary Edition; power cloth convertible top; optional removable hard top; select shift automotive 5-speed transmission; power tilt/telescope steering column; leather interior accent package.
US delivered car and imported to Canada in 2011. We purchased it with 13,030 miles on the odometer.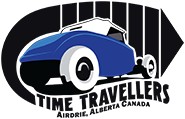 This model Thunderbird is a limited production model limited to a maximum of 100,000. It ended with about 68,000 of those actually built over the 4 year period from June 2001 to July 1, 2005. *Official end was July 1 but actual end was July 25 when the last 15 T-birds finally crossed the line. Production numbers for 2005 were 9,295 cars built.
Tags: 2005 Thunderbird, Convertible, 50th Anniversary Edition
All content is copyrighted and belongs to the Owner and the Time Travellers Car Club